Jenne Farm Vermont Overview
Jenne Farm Vermont: Jenne Farm is a farm in Reading, Vermont. it is located off of Route 106 in Reading, Vermont. It stands as one of the most photographed farms in the world.
Its rolling hills, trees, and barns create awesome views which are worth photographing in the fall. Seeing Vermont farm takes you on a journey as it flaunts its beautiful sceneries which are both man-made and natural.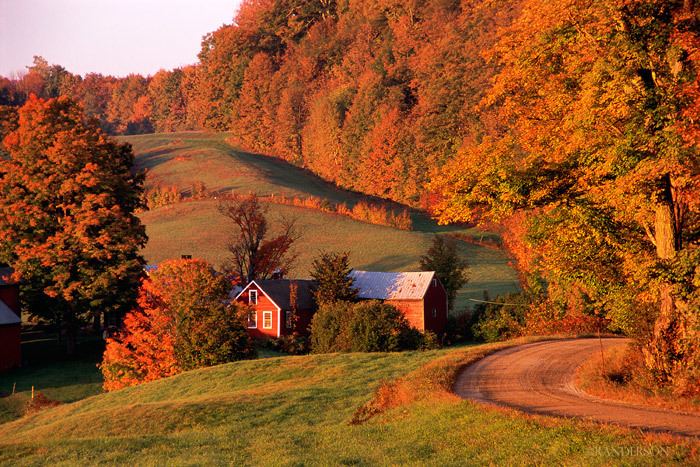 Its nice old red buildings which sit well on the land just like they were crafted to exist there before time, its reflecting pond, its green mountains, and also its people are the things it showcases ton grace the heart.
Taking all this in can do your sight and mind a world of good. Photographs from this farm have appeared in magazines, calendars, a Budweiser television advertisement, and postcards.
Jenne Farm Vermont History
Despite the farm's popularity the farm is located along a dirt road and is also not heavily promoted given the fact that it doesn't have a website to promote its activities and developments online.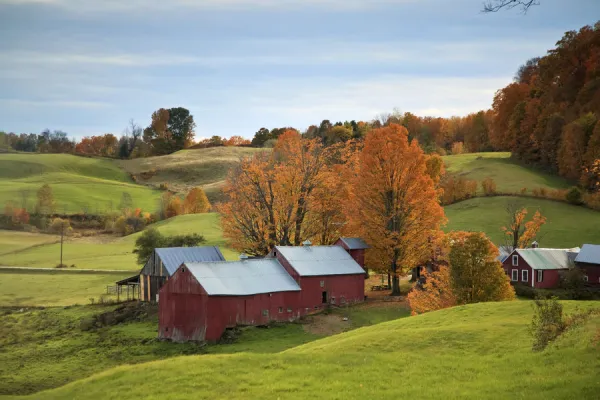 All of its popularity is owed to people who have engaged in photographing the farm and putting it out there, it is safe to say that apart from the small signage which is the only thing indicating its presence in the area, the farm's greatest advertising agents have been people.
The farm was noted for its photographic scenery around 1995 by a photography school in South Woodstock. In the farms earlier years, its widest audience comprised mainly of people from New Jersey and New York City.
It later appeared as an entry in a life photo contest on the cover of Yankee magazine and in Vermont life. In recent times one of the family co-owners of Jenne farm reported that as many as 100 tourists are visiting the property on the busiest days of the year. In recent years the crowd has grown and continues growing.
SEE ALSO: Most Expensive Restaurant In NYC
Jenne Farm Vermont Ownership
Jenne Farm in Vermont has been a privately owned farm since it was established probably somewhere in the late 1800s or early 1900s and it remains a family-owned business to this day with no intention of selling as the owners jealously guard and protect the farm.
Not being willing to risk any of its features is seen in the way the owners ask that visitors treat the farm with love, even cars are parked outside the entrance of the farm and not allowed on the inside the farm. Jenne farm sits on a vast 330 acres of land.
A LITTLE SECRET
So a little secret for photographers, did you know that the best time to capture the scenes of Jenne farm is the height of the fall foliage season? From late September through mid-October.
Although Many photographs of the farm are taken all year round the season is on your side during fall. Also heading to the farm before sunset is also one of your best bets for taking a beautiful photo of Jenne farm as the morning light which shines on the buildings and its meadows which surround the farm in the fall is magical and worth photographing.
SEE POST: 10 Exquisite Beaches In The Maldives
Also in the winter, the red old buildings glow in a different and attractive way as the sparkling snow falls on them. Also, it is important to watch out for the satellite dish whose interference can spoil your picture.
IT'S  FREE
With all of this fame and glory, it is seemingly surprising when one discovers that Jenne farm does not charge its visitors or tourists when they visit, they offer the vast beauty of the farm to strangers to behold and photograph all for free.
However, there is a collection box at the shooting area and the photographers and tourists are advised to buy its maple syrup which is the main business of the farm in addition to raising cows before leaving.
Taking a walk through Jenne farm is like walking through a natural museum as the land features create an irresistible harmony with the atmospheric and other natural features to delight you.
One moment you think you have seen it all and the next moment you are seeing nature expose you to its other side. You can't have enough of this farm as photographers all around the world keep coming here year after year in pursuit of that perfect shot that will satisfy them.
But how can you ever get enough of nature and its glory in Jenne farm as every time you are about to leave the farm leaves a beautiful picture in your head and whispers ''see you soon'', it may be another day, another month, another year, but same you and same old beautiful Jenne farm?
Sharing Is Caring!