How to Write a Letter of Explanation (LoE)
A letter of explanation (LoE) is a document that provides additional information to an employer, lender, or any other relevant party. Here are the steps to follow to write an effective LoE:
Address the recipient properly: Start the letter with a formal greeting and the recipient's name and address.
State the purpose: Clearly state the purpose of the letter and the context in which it is being written.
Explain the situation: Offer a detailed explanation of the situation, making sure to be honest and straightforward.
Provide supporting documentation: If relevant, attach any supporting documentation that helps to explain the situation.
Apologize if necessary: If the situation is negative, apologize for any inconvenience or mistakes made.
Offer a resolution: If possible, offer a resolution or plan for how to prevent similar situations in the future.
End on a positive note: Conclude the letter with a positive statement and a professional closing.
Proofread and edit: Carefully proofread and edit the letter to ensure it is error-free and professional.
Signature: At the end of the letter, sign it with your full name and title (if applicable). If the letter is being sent electronically, you can type your name instead of signing it.
Keep it concise: While it's important to provide a complete explanation, try to keep the letter as concise as possible. Avoid including unnecessary details that do not directly relate to the situation.
Be professional: Regardless of the situation, maintain a professional tone throughout the letter. Avoid using negative or accusatory language and focus on providing a clear and honest explanation.
Personalize it: Customize the letter to fit the specific situation and the recipient. Avoid using templates or generic language.
It's also important to keep in mind that the tone and content of the letter may vary depending on the situation and the recipient. For example, if you are writing to a lender to explain a late payment, the tone may be more apologetic compared to a letter explaining a gap in employment. Regardless of the situation, it's always best to be honest, transparent, and professional when writing a letter of explanation.
When Do I Need to Write a Letter of Explanation Canada?
Here are a few situations when you may find a letter of explanation may be needed:
Proof of work experience doesn't include 100% of the required items
Police certificate wasn't ready in time
Proof of funds doesn't include 100% of the required items
How Do I Write a Letter of Explanation for a Canadian Visa?
Below are some simple guidelines for writing a successful Letter of Explanation:
Only provide factual information
Should be short and to the point. (You will want to keep the letter at about 1-2 pages)
You do not need an index for your documents. The IRCC system gives you a personalized document checklist once you've completed all of the fields in the online form.
You will ONLY want to write the LoE to explain an issue (ex: you didn't meet the proof of funds or requirements, to explain something in your application which is not clear, etc.)
Remember that your letter will be examined by an immigration agent, not computers, so you will want to write it in a way that will persuade the agent that you have what it takes but just lack this or that piece of paper to prove it.
You will also want to provide any extra proof if it will allow you to build your case – but keep it simple. For example, if your letter of evidence of funds does not include your average account balance for the last six months (as needed), supplement it with bank statements.
How Do I Send a Letter of Explanation?
Make sure the letter of explanation is in the same file format (pdf, docx, etc.) as the document to which it refers. You will want to put the letter on the first page of the file so that it is the first thing the agent reads when they open it. Finally, upload the document normally, on the documents page on your "my application" page, on the "supporting documents" section.
You do not have to merge an LoE with every supporting document you provide along with your application.
Letter of Explanation Format
Below is a sample of a valid letter of explanation: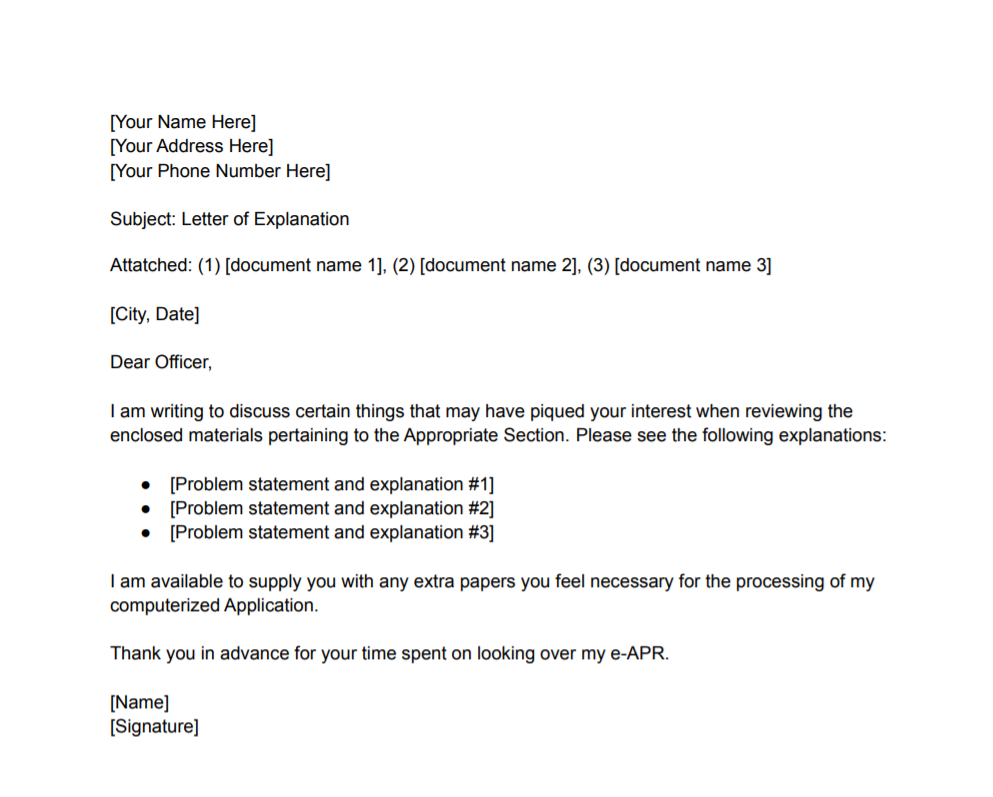 Do I Need a Letter of Explanation for a Canada Study Permit?
A Letter of Explanation is not a requirement for most when applying to study in Canada as an international student. Some Designated Learning Institutions require students to submit documents as part of the application process, while others do not.
When applying for a study permit, however, it is recommended that you submit a Letter of Explanation since it gives the immigration officer insight into your goals for studying in Canada.
Your LOE might be the deciding factor in getting you a study visa in Canada.
What About for a Canada Visitor Visa?
For the same reasons above, it is always recommended to submit an LoE with your visa application, but not required.
Do You Need Help with Your Canada Visa Application?
If so, Contact VisaPlace today. All our cases are handled by competent and experienced immigration professionals who are affiliated with VisaPlace. These professionals consist of lawyers, licensed paralegals, and consultants who work for VisaPlace Legal, an award-winning immigration firm that adheres to the highest standards of client service.
Ready for the next step? Book your 1 on 1 consultation now or call us at 1-888-317-5770.
Have a Question related to your Immigration Needs?
Fill out the FREE Immigration Assessment form and get a response within 24 hours to see if you're eligible.
The assessment form should take approximately 5-7 minutes to complete. We will get back to you within one business day to let you know if we are able to help.