The Maldives Beaches
Maldives Beaches: Nothing beats an outdoor experience with nature as you listen to the melodies created by the sound of chirping birds in harmony with the movement of the trees as the soft breeze of the day blows through them. Everyone loves a good experience with nature guiding them through the tour.
Are you about to go on a tour? have you Packed your bags already and chosen Maldives as your vacation destination I know you have made plans which most likely has covered from your lodging to your touring but may I make a bold statement here that your touring and visit the Maldives will not be complete if you do not take a visit to one of the numerous beaches in the country. 
Maldives Beaches | Where Is The Maldives?
The Maldives is comprised of 1,192 coral islands which are grouped in a double chain of 26 atolls, which stretch along a length of 871 kilometers north to south, 130 kilometers east to west spread over roughly 90,000 square kilometers of which only 298 km2  is dry land. 
The Maldives enjoys a tropical monsoon climate and because it has the lowest elevation in the world the temperature of the region is constantly hot and often humid. The region experiences two seasons in terms of weather which are the dry season and the rainy season.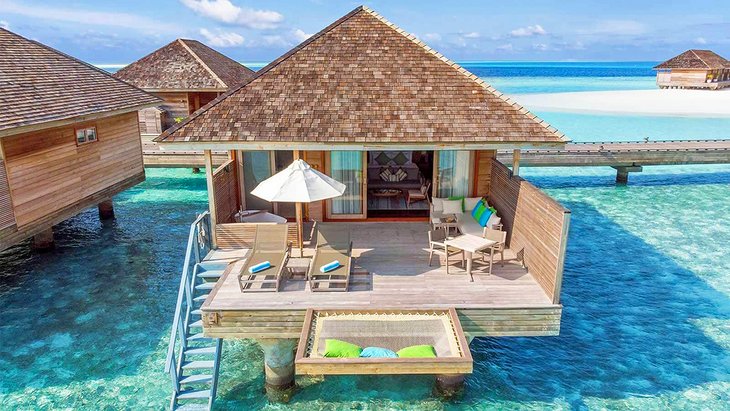 The shift from the dry season to the moist or rainy season occurs between April and May, during this period the southwest winds contribute to the formation of the southwest monsoon which reaches the Maldives at the beginning of June and lasts till the end of November
One of the attractions that have put the Maldives out to the public for a good reason has been its beaches. The Maldives has a compendium of some of the best beaches in the world.
The crystal clear blue waters, the serene environment that is embedded with tranquility, and the palm beautified beaches are always available and present to give you and your family a thrill of a lifetime as they offer themselves to give your eye a pleasant treat and your mind a walk through the halls of rest and peace.
Maldives Beaches Insights
At Maldives beaches, it is very obvious that you will not just get a chance to enjoy luxury but you will enjoy luxury with a full experience of nature.
Many have attested to having had pleasant experiences at these beaches with nothing to regret. The Maldives is a romantic getaway location for couples and many who desire to have a honeymoon worth remembering.
So allow me to highlight for you some of the beaches in the Maldives.
#1 HULHUMALE BEACH
Located in a Kaafu Attol, Hulhumale is considered to be the most popular of all the beaches in the Maldives. Its clear blue water and white sand beach add a ton of flavor to your holiday and visit.
It gives you the kind of comfort that makes you forget about the stress that burdened you on your arrival. Its luxurious and unique features work together to give you an experience you will never forget.
Some of the things to watch out for are its pocket-friendly hotels and the fact that you cannot wear a bikini to this beach just like every other beach in the Maldives given its Muslim nature.  You can scuba dive, or go snorkeling in Hulhumale.
#2 BIKINI BEACH
For couples who would like to have a skinny dip in the waters and still feel quite at home without feeling the weight of religious restrictions in the Maldives, this is the perfect beach for you. Here you can flaunt that nice bikini and that awesome beach body you have been working on from wherever you have been.
It offers very enticing views and is also large enough for you to take long walks in the evenings holding hands with that special person.  Also, it is important to point out that this is a private beach hence why you can put on a bikini.
#3 COCOA ISLAND
Enjoy live coral reefs at this luxurious and aesthetically pleasing beach with breathtaking views. It is located in South Male Attol, the island is also known as Makunufushi and it is known for features such as its sugar-sand beaches and blue waters. It offers luxury and comfort to its visitors.
It is home to the Como cocoa island resort whose staff are eagerly waiting and ready to thrill you to the best of the island and its resort combined, it's like a tag team of nature and man working together to give you the very best.
#4 VALIGANDU ISLAND
Located on an island in North Ari Attol, it poses as one of the best beaches in the Maldives. It is very fitting for a mature getaway. It is very spacious and stretches beautifully giving the eyes and mind something to anticipate as you explore the lengths of it.
The VAligandu island beach is only accessible to guests of the Valigandu island resort which means that you are entitled to the beach if you have checked in with the resort. It is an adult's only property which means that you get the opportunity to enjoy privacy with comfort
For a relaxing moment, you can visit its thatched-roof pavilions and loungers. The reef also gives the water some shades of green and blue.
#5 REETHI BEACH
This epitome of beauty is located on a small island in Baa Attol, if you have a wish to experience luxury then there's no need to wait for Genie because this Maldivian beach has granted that already and all that remains is your presence in that location.
It has some luxurious bars and clubs which surround it with some collection of romantic places to stay in for couples and love birds, it is actually believed to be the best place for honeymoons because of its water villas and other salient features. You get to enjoy clear blue waters, beautiful stretches of sand, and natural views till you are satisfied.
SEE POST: 10 Most Exotic Restaurants In Nicaragua
#6 BAROS
Surrounded by a coral reef, crystal clear blue water, and white sand. This beach hits one with beauty and pleasure. It is host to one of the best lagoons in the Maldives and a perfect hangout and getaway place for couples.
For luxurious accommodation you can lodge at the Baros Maldives stunning 5-star hotel which is situated near the beach and, also you can enjoy the coral reef by going reef snorkeling among other fun activities which you can engage in.
#7 FULHADOO BEACH
Have an awesome time with that one person you cannot live without while enjoying privacy to the maximum on this secluded beach which has a wide expanse of land for you to explore and hide away from the busy bustling activities of the city life.
It is one of the unique beaches in the Maldives. Since it is a wide beach there's scarcely anyone around which offers an opportunity for you to enjoy some privacy.
#8 LILY BEACH
This is a private beach that is being run by Lily Beach Resorts and Spa. A luxury escape to this private island will afford you the opportunity of taking in all of its beauty and grand splendor as you have an unbeatable time here.
It is located at Huvahendhoo island in Ari Attol and is close to some famous dive sites in the world. You can bask in the fullness of the sun and have a filled day with an assurance of being taken care of here.
#9 BANDOS MALDIVES
With white sands hugging its shores and tropical weather the beauty of nature comes alive here. It's perfect tropical heaven whose gospel has attracted a lot of tourists visiting the Maldives from all around the world.
An escape from the city life will be worth it if you find yourself here. It offers spectacular views of the skyline and the beautiful crystal clear blue waters. This serene atmosphere can drown your worries and keep you at an altitude of peace as you have never experienced. 
#10 MIRIHI ISLAND BEACH
This lavish resort offers a package from nature that you cannot refuse, it comprises all the right features to satisfy and keep the tourist or visitor in you longing for more.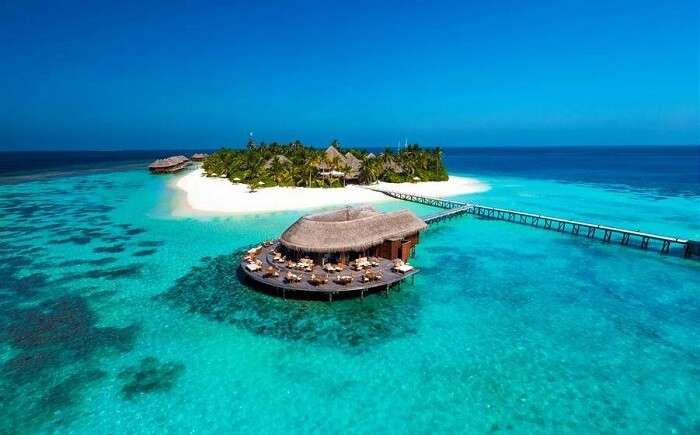 Palm trees, seabed, white sand, and crystal blue waters are some of the features that make this beach unique in its own right. It stands out without argument and gives you an experience you can live to remember. Where else would you rather be on your fun-filled trip?
Final Thought
The Maldives is an awesome place to visit, and one of the features of this place that cannot be overlooked by tourists and residents are its sufficiency of beaches which offer a wide range of varieties to choose from and leave you confused as to which one to pick, don't worry this is perfectly okay as you're not the only one on that boat.
So, planning to visit the Maldives or already in the Maldives do ensure to add a visit to the beach as part of your tour plan, you can choose to visit more than a handful if you so desire because mother nature has nothing against that.
Sharing Is Caring!