Breakfast in bed is a great way to get your spouse or partner to tingle up with blushed giggles, irrespective of who gets it done; whether the man or the woman!
Hey there, lovers! Today we will be looking at romantic ways to spice up your love life as couples with breakfast in bed. Stay with me!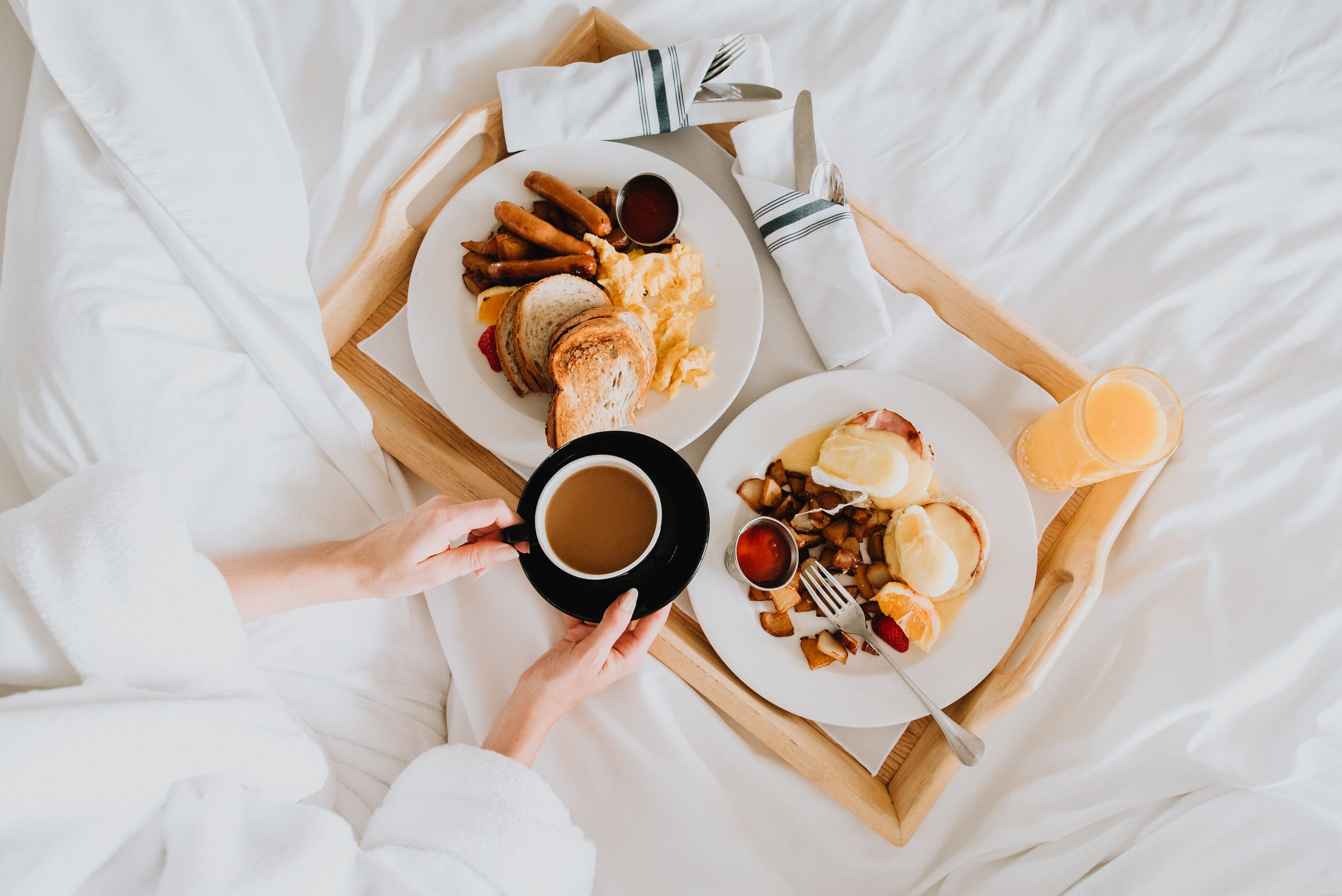 If you're one of those boring partners around lacking the love fervor, it's time to get lit! It doesn't matter whether you've been married or courting for years, what is important is that you can always, without limitations, spark up the feelings you first had.
What Is Breakfast In Bed?
Breakfast In Bed is a romantic light meal prepared solely to surprise a partner. It's more prevalent amongst couples. However, it is presented in the wake of your partner yawning up from sleep only to find a tray of meals before him or her in bed, as a way of saying "good morning sweetie!"
Breakfast In Bed: 10 Romantic Ways To Get It Done
#1 Honeymoon
The first way to try this out is during your honeymoon. Honeymoon is a great time for couples to express good love to each other with a full package of surprises, and one of them is breakfast in the bed!
#2 Vacation
Vacation with your spouse can give you the room to unleash this element of surprise. While your wife is sleeping you could wake her up with a kiss planted on the forehead or cheek to feed her.
#3 Valentine's Day
This should be very personal as to preparing a wonderful wake-up call meal in the early hours of Valentine's Day! It's a once-in-a-blue-moon romance that you must not play with. It's a perfect way to begin Valentine's Day filling the atmosphere with romance and love!
#4 Home
Breakfast In Bed Tray should be normalized with couples, at least once in a while adventure. It can be done at home, not only on special occasions. Once in 3 months is a great idea to consistently build stronger bonds in marriage.
#5 Birthdays
A birthday is a reminder someone is getting older, and perhaps hitting milestones of achievements. So, it's a perfect moment to include breakfast in the bed to make it a memorable one for your partner.
#6 Anniversaries
We celebrate anniversaries a lot ranging from weddings, relationships, work, and career anniversaries. Taking advantage of anniversaries to add breakfast in bed tray to the list is off the hook for your partner or spouse.
#7 Mother's Day
Your wife and mother of your kids deserve a romantic treat on this special day. Making her munch something delicious in bed in the morning wouldn't be a bad idea. After all, she's been the one taking care of the house and kids, so you can make that morning a special one for her.
#8 Father's Day
Your husband and father of your kids can be startled with a breakfast in bed tray! It's simple, all you gotta do is serve him in bed and make him blush all morning! A perfect way to say, "sweetie happy father's day, I love you!"
SEE POST: How To Deal With a Cheating Partner
34 Breakfast In Bed Recipe Ideas
Spicy Moroccan Eggs

Sausage and egg baps with spicy tomato sauce

Peach Melba smoothie

Chocolate and almond croissant

Spiced bloody Mary's

Black pudding potato cakes, fried eggs, and tomato chutney

Poor knights of Windsor with blackberry compote

Baked eggs with spinach and tomato

Squash, goat's cheese, and rosemary pancakes

Soft-boiled egg, bacon, and watercress salad

The ultimate makeover: Full English breakfast

Veggie breakfast bakes

All-in-one-baked mushrooms

Vegan tomato and mushroom pancakes

Shakshuka

Seven-cup muesli

American blueberry pancakes

The great breakfast burger

Banana pancakes with crispy bacon and syrup

Eggs Benedict with smoked salmon and chives

Baked eggs with ham and spinach

Raspberry, chocolate, and hazelnut breakfast bread

Waffles with banana and salted caramel sauce

Spiced oatmeal fritters with coconut caramel pears

Brummie bacon cakes

Homemade crumpets and burnt honey butter

Lobster muffins with poached eggs, caviar, spinach, and hollandaise

Simple nutty pancakes

Poached eggs on avocado and feta toast

Ricotta strawberry french toast

Marmite eggs Benedict with waffles

Matcha breakfast bowl

Soft-boiled eggs with pancetta avocado soldiers

Cardamom buns
The above-listed recipe ideas for breakfast in bed tray are perfect to prepare for your spouse.
Moreover, the idea behind breakfast in bed tray is to make a particular morning with your partner a special one.
How To Make Breakfast In Bed a Special One
Get the food items ready the night before the morning

Wake up very early before she does (you should know the time your partner wakes up in the morning)

Make sure it's his/her favorite

Play a cool romantic song in the background

Reminisced while taking some bites

Look into each other's eyes romantically

Feed your spouse

Pick up the tray to the kitchen yourself
Benefits of Breakfast In Bed
Improves bonding

Fresh arousal of romantic feelings

Increases care and love

It shows appreciation

It reaffirms affection and attention

It makes your spouse or partner feel special and valued

Satisfaction
Final Thought
Breakfast In Bed may look simple and can be ignored most times, but this is one of the little things that spice up marriage and relationships. In case you didn't realize, this little act calls the attention of your partner to the fact that you care and can create a bond beyond your imagination.
If you enjoyed or gained some value, kindly share and drop a comment below, perhaps make more suggestions.
Sharing Is Caring!